Mike Imber is probably well known for his efforts for Kimbo Slice. Not only is Mike Imber Kevin Kimbo Slice's manager and promoter, he is also oldest friend.
You can hardly read about Kevin Ferguson without hearing about Icey Mike. In a short amount of time, Mike Imber has helped Kimbo Slice go from a viral video star, to a UFC fighter and now a heavyweight boxer.
Aside from all the work he does with Kimbo Slice, Mike Imber also does a ton of volunteerwork in the local community. His most recent plan involves raising awareness for Autism through several different events. For more breaking news on everything having to do with Mike Imber, keep visiting us right here.
It seems Icey has been on Slice side from the very start going as far back as to his initial back yard scrap and through his days as an unrecognized fighter in which he made a name for himself in Miami, Florida.
Icey has been there as Slice manager from the very beginning. Icey was also, there applauding for the 6′ 2″, 225 lbs, Slice on his professional boxing debut in which he came out undefeated.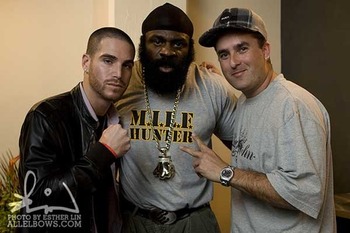 There's no lack of faith that Icey and Slice are perfect sidekicks that only contribute to one anothers achievement.Slice has been getting ready for several months now and there's plenty in store for the boxer in the approaching future. With Icey on his side, this is a team to be reckoned. Not only are they friends that have support but it's certain that these two are on the same page and have conjure up the precise recipe for triumph.